Manual of Worldwide Temperate Zone Fruit and Nut Tree Rootstocks
Compiled and Edited by Lowell Cordas
250 rootstocks listed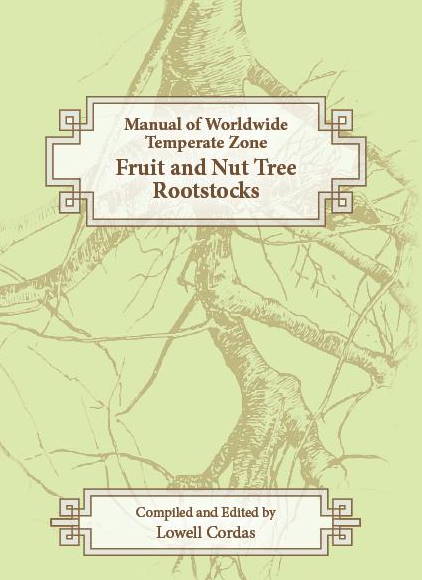 This manual will introduce you to the many worldwide temperate zone fruit and nut tree rootstocks. Rootstocks are confusing! As an interested amateur fruit grower, I soon realized there was a whole world around rootstocks which I knew nothing about. However, finding information about all the various rootstocks was not as simple as going to just a few resources. I began a web search. That led to reading fruit growing nursery catalogs. That led to reviewing published papers. The more I learned tickled my desire to learn even more. So, what began as the creation of a rootstock compendium of the most commonly used rootstocks in North America, became more of a 'state of the art manual' as of March 2016.
However, even that began to change as further research exposed the wide variety of biotic disorders that affect rootstock selection and the compatibility challenges with many of the newer rootstocks and fruit varieties. Of course, nothing in this report is intended to be more than a general guide. Rootstocks are regional, local and international. For one's specific planting site, it is most important to check with your local experts: commercial orchardists, nursery growers, extension service professionals, avid hobbyists, field-men and women, and others, to verify any and all claims as made about a particular rootstock and how it may perform in your area and on your site.
This manual tries to identify the rootstocks with the most available information. However, there are many more rootstocks mentioned in articles and a few in this report not well described because of a paucity of published information; consequently, there is more information on some rootstocks than others in this manual. With the results of on-going trials and trials to come, more specific information on each rootstock will accrue. Some of the rootstocks, even the more obscure ones, may well end up as a parent in new hybrid rootstocks!
This manual was created by searching across the Internet. Only open sites were used, no sites that required login or membership were used. However, a few abstracts were printed at my local library through the inter-library loan service. Unintended errors or those made in copying may be noticed. If so, please contact the editor so corrections can be made. For a complete list of the papers, nursery catalogs and fact sheets cited, please see the end of this document. If I have inadvertently failed to give credit to anyone, again, please contact me.
About this website
This website contains summary information of all the rootstocks listed in the printed manual.
You can view the table of contents of the printed manual here.
The website loosely follows the structure of the printed manual - click on the Directory link on the menubar to get started.